The Fires of Life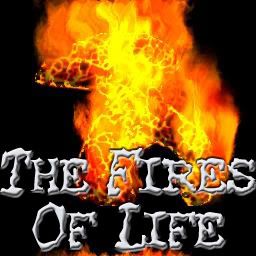 Well,
Yesterday I was privileged to be invited to hang out with the Efthimious. We had a grand day - and Rachael, Dell, Whitney and I went shopping (mostly "window shopping" for me). It was a great time to just hang out and enjoy each-other. After dropping Whitney and Dell off at different places in Corning, Rachael and I made the trip back to the Efthimious'. On entering their driveway, I noticed sparks coming out of their chimney. Thinking to myself that maybe their chimney always did that and it was no problem, I dismissed it from my mind...until, while getting things out of the back of the car, Rachael and I both looked up as we heard a "whooshing" sound, and, with somewhat stunned eyes, beheld the top of their chimney hosting a ball of flames! After I asked an obvious question, to the effect of "I take it that isn't supposed to happen...", Rachael ran onto the house, alerting everyone watching football or talking, to the fact that the large fire in the fireplace, that Mr. Efthimiou had been saving logs for, was not as nice looking coming out of the chimney...
Mr. Efthimiou ran out and had to climb on the roof, using the hose to put out the fire. We had to put out the fire IN the house, and open the doors (it went from toasty to "cool" in there...) but the fire coming out of the top of the chimney didn't stop for a lot longer time. The fire department didn't come for about 15 minutes, and the fire was nearly out by then, but they had to make sure that the fire hadn't crept into the walls at all, so that took about an hour. Fortunately, everyone is fine there and their house is still intact...but I shudder to think "What if Rachael and I hadn't come back just then?"...God was in control there! If Rachael and Whitney hadn't had a "deep conversation" at the Snapps' (where we dropped Whitney off at) for about 15 minutes, we would probably have been IN the house, and not seen the huge ball of fire appear on the chimney! The Efthimious have to replace the chimney lining...but at least they caught it before something worse happened!
The fire is kind-of like sin - in a way. Sometimes sin can seem like a good thing. Sometimes it makes us happy - it gives us a warm feeling. It CAN start as a "little" thing. We realize it's there, but it seems like no one else is being hurt - "so why not do it"? God puts others in our life who can see the effect our sin is having on us - and others. They speak to us about it and try to warn us of the "fires" that will come if we don't give it up - or put it out. But, sooner or later, the sin gets out of control. We may not even realize it, but those whom God has put in our lives do. They are just concerned about our eternal well-being, but we may push them away - thinking that, since we can't SEE anything wrong, they are just trying to ruin our comfort...our "good times". But if we were to see ourselves from their point of view, we could see the fires that are about to consume our lives - once and for all. We only have one chance. Once our lives are "burnt down", there isn't another.
If we step back and see the fires, we may decide that, just in case, we'll put out the fire "down below"...the "little" fire/sin. We think we've gotten everything, and that we "look good" again, but the fire on the roof still rages - hotter and hotter! If we don't fight it with all of our hearts, and refuse to stop until it is all put out, it can destroy us - AND those we love!
After we think the area of sin is gone - when we've been doused in the waters of God's AMAZING grace, we still need the communion with others - pastors, other believers, close friends who can keep an eye on our walls, to make sure that the sparks of the previous fire don't start another fire.
We may have to give up and/or replace something we hold/held dear, but for our eternal salvation, the things on this earth are as nothing...as fleeting as a tissue thrown into the fire is consumed!

Where's the fire in your life, and what are you going to do about it? Are you going to let God have control - are you going to surrender that area to God and let his grace cover you, or are you going to refuse to admit that there is a problem, and risk being burnt?